Warm Chocolate Tart With Red Wine Sauce
invictus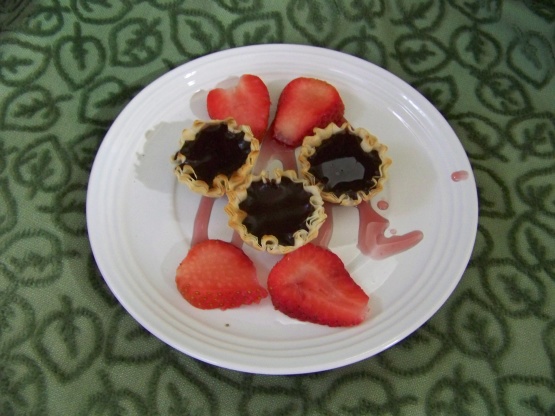 This romantic tart comes together in no time at all with the use of a premade tart shell. Feel free to make your own of course, but I stick with the premade ones on account of being pastry-challenged. As far as a rich and indulgent dessert, you cannot go wrong with warm chocolate and red wine! Perfect for valentines day, or any day that you just want to treat yourself and the ones you love.

Simple and elegant! I had a package of phyllo tart shells to use up so these turned into bite sized desserts. I also found a Lindt 70% cocoa bar at a great price so I decided to use that for the chocolate instead. It was very rich and very good. I imagine that you could use just about any chocolate you would like but a milk chocolate may have too much high of fat content to settle properly. It would be worth experimenting. The red wine sauce (I used ChateauGigault from a local Washington winery) really made this dessert extra special. I would have never in a million years have thought to do that! I am not a wine fan but even so I loved how it complimented the chocolate. This is going into my favorites cookbook. Thanks so much for posting!
For the Tart:.
Preheat the oven to 325°F.
Place the chopped chocolate in a medium bowl and set aside.
Combine the cream and milk in a medium saucepan, and bring to a boil over medium-high heat. Pour the hot cream mixture over the chocolate. Allow to stand for 30 seconds to melt the chocolate,then whisk until the chocolate is completely melted and the mixture is smooth. Allow to cool for 10 minutes.
Whisk the egg into the chocolate mixture. Pour the filling into the prebaked tart shell.
Bake the tart for 8 to 10 minutes, until the edges of the filling are set; the center will still be soft. Cool the tart on a wire rack for 10 minutes and served warm.
For the Red Wine Sauce:.
Put the sugar in a deep sauce pan. Stir constantly on medium high heat until sugar liquefies and turns mahogany brown. Add the red wine and whisk until sugar is dissolved and wine is incorporated. Chill. Serve over tart.