Warm Chocolate Pudding Cakes (Oamc)
Bev I Am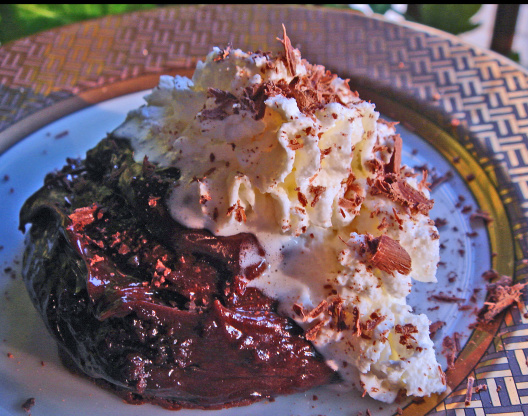 The most amazing dessert I have ever had. Made by Emeril!**a little update-I normally have to cook mine for a few minutes longer than Emeril states, also I have made this up until baking and kept in the freezer for 2 weeks then baked**

Oh my goodness! I love these molten cakes but never, ever, in my wildest dreams did I think I could make it ahead, put it in the freezer and when ready just move it to the oven from the freezer and be eating it 15 minutes later. I think I licked my plate clean. So delicious with a scoop of vanilla ice cream. If you are a chocolate lover, love easy recipes, and love the idea of having it made and ready to go when you are, you will not be disappointed! LOVE THIS!
Lightly butter 2 ramekins with 1 teaspoon of butter and set aside.
In the top of a double boiler place semi-sweet and unsweetened chocolate and stir occasionally until melted. Remove from heat and stir in 3 tablespoons butter and sugar until smooth. Add eggs, flour, baking powder and cocoa. With an electric mixer, beat at medium-high speed until pale and very thick, about 5 minutes. Place mixture in prepared ramekins, filling about half-full. Cover with plastic wrap and freeze for at least 3 hours.
When ready to serve, preheat oven to 375°F Place ramekins on the middle shelf in the oven and bake until edges are set but centers are still shiny, about 10 or 11 minutes.
Invert pudding cakes onto plates and serve immediately, garnished with whipped cream or ice cream, and dust with cocoa powder. (Desserts may also be served directly from ramekins).