Warm Chocolate Cherry Pudding
PetsRus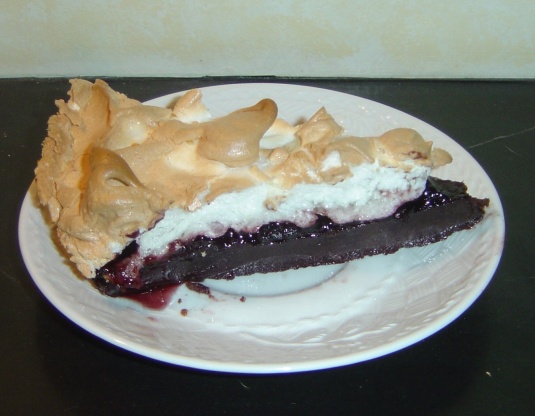 A chocolate variation on Queen of puddings, which is made with breadcrumbs and straw or raspberry jam. My husband likes to eat this with some cream poured over it.

Top Review by ellie_
Delicious, even with my changes (based on what I had on hand). I used bittersweet chocolate and red current jelly (instead of the jam). I also wasn't sure of the measurements using ounces instead of cups, so there was a bit of guess work on my part--but I used about 1/2 cup of sugar and 2 slices of bread (to make the bread crumbs). This was enjoyed by all, next time I will use the cherry jam though. Thanks for sharing!
2

ounces dark chocolate, in pieces

2

cups chocolate milk, I use store bought

4

ounces fresh breadcrumbs

4

ounces fine sugar

2

eggs, separate the yolks from the whites
7⁄8 tablespoon good quality black cherry jam
Preheat oven to 350°F.
Heat the chocolate pieces with the chocolate milk until the chocolate is melted and it is hot.
Mix in a bowl together with the breadcrumbs and ¼ of the sugar, then add the egg yolks, mix again.
Transfer this to greased 1 ½ liter/quart oven dish and bake for 25 to 30 minutes until it feels firm.
Remove from the oven, leave the oven on, lower the heat to 325°F.
Beat the egg whites to the soft peak stage, gradually adding the rest of the sugar until the egg whites are thick and shiny.
Spread the cherry jam on top of the pudding, top with the egg whites.
Return to the oven for another 10-15 minutes until crispy and light golden.