Warm Chickpea Salad With Shallots and Red Wine Vinaigrette
Rita1652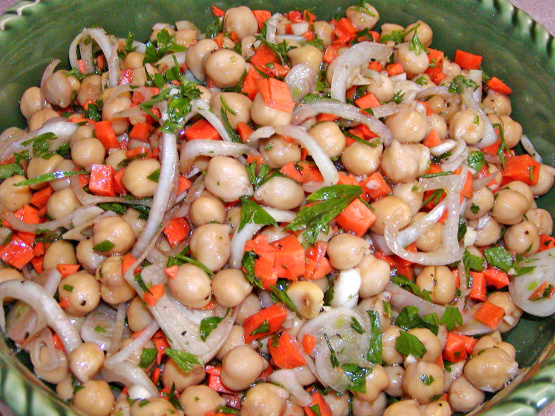 If you agree with Lynne Rossetto Kasper's belief that "the chickpea should be canonized into the food lover's hall of fame" then you'll love this delicious, flavoursome and very healthy warm chickpea salad from award-winning vegetarian chef Peter Berley's book "Fresh Food Fast: Delicious, Seasonal Vegetarian Meals in Under an Hour". I subscribed to Lynne Rossetto Kasper's "The Splendid Table" newsletters some time ago, and this is one of many fantastic recipes she has included in her newsletter. The recipes and her tips - which I have included in this posting - are great. I have posted this recipe here exactly as I received it. Because "The Splendid Table" recipes and Lynne's tips are always SO excellent, I shall post some more of them. I love this recipe, Lynne clearly loves this recipe; I hope that other chickpea lovers will too!

I second the other reviews - we LOVED this salad! It's very hearty and can easily stand alone, especially on a summer day with bread. I also sauteed the garlic and shallots with red wine vinegar and 1/2 teaspoon sugar instead of step #1. In addition, I added fresh basil and grated fresh parmesan cheese. I'll try adding mint also next time - would be great in the salad! I questionned blanching the chickpeas, but I agree that this really (unexpectedly!) brings out the flavor. Wonderful salad - will make again and again!
In a large bowl, combine the shallots, vinegar, garlic, and salt.
Set aside for 10 minutes to allow the shallots and garlic to mellow.
In a medium saucepan over high heat, bring 2 quarts of water to a boil.
Add the chickpeas and blanch for 1 to 2 minutes.
Drain.
Add the carrot, parsley, and oil to the shallot mixture.
Toss in the chickpeas and season with salt and pepper.
Serve immediately with a loaf of good crusty bread, sweet butter and a leafy tossed salad.
LYNNE'S TIPS:.
Make extra and toss along with leftover tofu, seitan, shrimp, or cooked chicken breast into mixed greens for an entrée salad the next day.
Substitute cannelini beans for the chickpeas and toss in some chopped good-quality salami.
Simmering canned beans in lightly salted water for several minutes freshens them up. The warmed beans also absorb better the flavors of the vinaigrette.
THOUGHTS FROM LYNNE:.
On Canned Beans: Canned beans are the answer to little time and money. They taste every bit as good as those cooked from scratch, and they're packed with nutrition, including fiber, protein, complex carbohydrates and B vitamins. Add them to soups, toss them into green salads, or dress them with flavorful oils, vinegar and herbs.
On Chickpeas: For my money, the chickpea should be canonized into the food lover's hall of fame. It is meaty, sweet and friendly with just about every seasoning and ingredient. Of course Peter Berley has known this for years.