Warm Chickpea Salad With Ginger
Parsley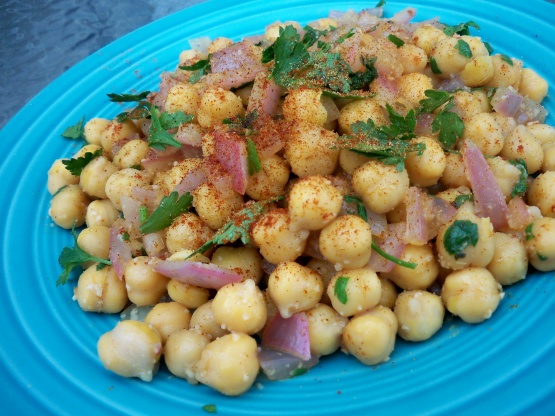 This Moroccan salad is often served warm with grilled fish.

Very good. I ate two servings on top of greens as a meal myself. I used a very good extra virgin olive oil, white onion as that is what I had on hand, cayenne instead of chili pepper flakes, bottled lemon juice because I didn't have any lemons! I did not add the optional cilantro but I'm sure it would be delicious I just didn't have any. I used sea salt and sweet paprika. I will make this again and would like to try it with cilantro and maybe some chopped tomatoes added at room temperature. Made for NA*ME Tag!
Heat 1 tablespoon of the oil in a frying pan over medium-low heat. Add the onion and garlic & cook gently for 5–7 minutes until soft and transparent.
Add the chickpeas, ginger, and chili flakes and stir for about 30 seconds. Then add the lemon juice and let the mixture bubble until almost dry. Next add the cilantro and season to taste with salt and pepper.
Place the chickpea mixture into a serving bowl and pour over the remaining olive oil. Sprinkle the cumin and paprika on top, gently stir then serve warm.