JustJanS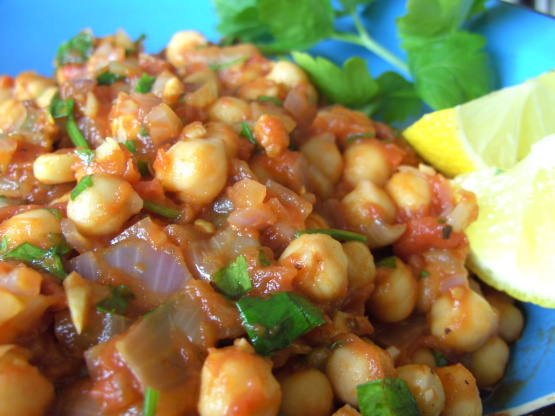 I've been trying to include more beans into our diet recently. This is a great warm salad for fish or chicken. Leftovers are great reheated too. If you dont like chillies-no problem just leave them out (although to add some extra flavour in place of the chillies ,you might like to add some extra lemon juice, salt and pepper). Serves 4. You can use cannelini or any other white bean in place of the chickpeas. Serve with lemon wedges. For gluten-free or cegetarian-check stock is suitable for your diet
Wow what a fantastic way to use chickpeas. Love it. I didn't have any chillies so i put is couple of shakes of chili powder in. it gave it a wonderful kick. I will be eating this for lunch heaps. Made for RECIPE SWAP #38 - March 2010 in the Aust/NZ forum
Deseed the tomatoes and chillies. Chop tomatoes into a rough dice and finely slice the chillies.
Heat the oil in a large frypan/skillet. Add the chilli, garlic and red onion. Stir over a medium heat for about 5 mintus.
Add the chopped tomatoes and the wine/stock/water (whichever of your choice). Reduce heat to low. Cover the skillet (if you dont have a lid you can use aluminium foil). Cook for another 8-10 minutes. The mixture should be soft and most of the liquid evaporated.Remove from the heat.
Lightly stir in the chickpeas (or other white beans) , parsley, lemon juicend lemon zest.Season to taste with freshly ground salt and pepper.
Serve with lemon wedges.