Warm Chicken Sandwiches W/ Mushrooms, Spinach, and Cheese
loof751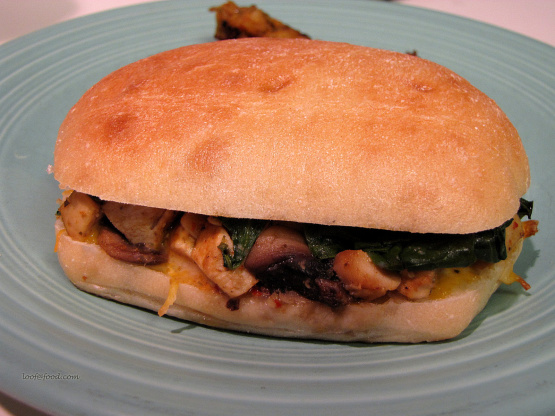 From Bon Appetit Magazine, January 2009.

These were a big hit with DH and I, we both enjoyed them for supper and then the next day for our lunches! The only change I made was to NOT saute the spinach--simply piled it onto the hot chicken mixture added more grated fontina and wrapped them and popped in the oven! Thanks for posting this recipe, I'm sure we'll be having them again and again.
Preheat oven to 400°F
Pull some bread from ciabatta rolls to form slightly hollow centers. Drizzle ciabatta rolls with olive oil. Spread roll bottoms with whole grain mustard. Sprinkle roll bottoms with half of fontina cheese.
Heat 2 tablespoons oil in large skillet over medium-high heat. Add mushrooms; saute 4 minutes. Add chopped shallots and pressed garlic; saute 3 minutes. Add chicken; saute 2 minutes to heat through. Transfer to plate. Add 1 tablespoon oil to skillet. Add spinach; saute 2 minutes. Season to taste with salt and pepper. Drain.
Spoon chicken mixture, then spinach over roll bottoms. Top with remaining cheese. Cover with roll tops.
Wrap each sandwich tightly in foil. Bake sandwiches until cheese melts, about 20 minutes.