Tisme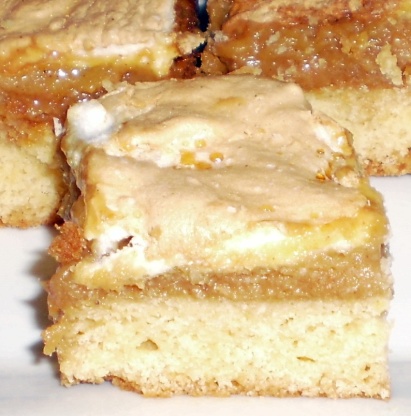 From our local paper, saving here to make for the DH. times are estimated and also assumed you would make the caramel while base is cooking and start the meringue - time given should be achievable. I've since made this and altered the timings a little and the pan I used was 17cm x 25cm and worked fine though gave a slightly thick base and the base took about 18 minutes to cook. Also suggest you use the back of a spoon to flatten out the dough in the pan and give the pan a slight grease before putting in the baking paper as it helps to anchor it so you don't have it sliding as you spread the raw dough out. I have left the serving size the same though they are large serves but you could get away with 12.

Top Review by Tisme
Well let me start firstly by stating that anything I am about to write, reflects no way on this recipe ........... It was all my own fault!!!!!!!!!!!
Where do I start...... Well have you ever had a day where you should never have started cooking? Today was it for me!!!!!!!!!
I started this recipe, and my first problem was to find the right size tray......... And my ruler had gone missing also!!!! After a small arguement with DH on where any measuring device was, the pan I choose, seemed a close enough size! So even though the dough was fairly thick (too small a tray), off it went into the oven..... onwards and upwards they say.
Not a problem, or so I thought, next onto the caramel mixture, I had it too high and nearly burnt it, sheesh brown flecks through the caramel, not too give up, into the food processor to get the little brown bits out........ It worked!!!!!
So over the dough the caramel went..... ewwwww the caramel nearly went over the edge of the smaller pan......not to worry all looked good! Now onto the meringue topping................. Beautiful soft peaks.......until I added the sugar!!!!!!!!!!!! Ahh well try again......... I did not believe it .........it happened again, I did everything as I usually do but this time............ ahhhh well, onwards and upwards again.
The meringue topping went on to the thick dough and the near burnt caramel and into the oven.
Stress had taken over and I forgot to set the timer on the oven, and old age suddenly set in....... I forgot what time I had put it in!!!!!!!!!
Took it out and it ws not cooked properly........... Nothing was to go right, I had nothing to loose .........(so cover you hears), I used the microwave to cook it a little more!!!!!!!!!
Now for the outcome............ Delicious....lol
This very forgiving recipe was wonderful, even though the dough was a little thick, the taste of the slice is sensational! Chewy caramel slice with a light fluffy meringue topping.
Great recipe Pat, even though I mucked it up, and anything that would've or could've.... did go wrong, they still were fantastic.
My problem now is I can't find my slice container to put them in........... Go figure....... ahh they won't last that long anyway's!
Thanks Pat, will be trying these again.
Dough Base - Preheat oven to 165°C.
Line a 20cm x 30cm slice tin/tray with 4cm sides with baking paper and set aside.
In a clean bowl beat together the butter and sugar until pale, then add egg yolks on at a time, making sure each is combined before the next is added and is also combined.
Using a spatula, fold in flour, adding the milk at the end.
Put the dough mix into the tin/tray and press down evenly to cover the base and then pop in the oven, bake for 15 to 18 minutes, then remove from the oven and set aside.
Filling - In a small saucepan over a low heat, mix together the condensed milk, unsalted butter and golden syrup, this will take 3 to 5 minutes and then remove from heat (if you cook to long it will begin to separate, if this happens give it a brisk whisk to bring it back together) and stir in the egg yolks and pour the filling over the base, making sure it is evenly spread over the dough.
Meringue Topping - In a new clean bowl beat the egg whites until they form soft peaks and then slowly add sugar and beat until stiff peaks form.
Spoon meringue evenly over the carmel filling and then bake in the oven for 10 to 15 minutes or until meringue starts to colour.
Remove from the oven and allow to cool a little before slicing.