Warm Butterscotch Peanut Butter Fondue Dip
flower7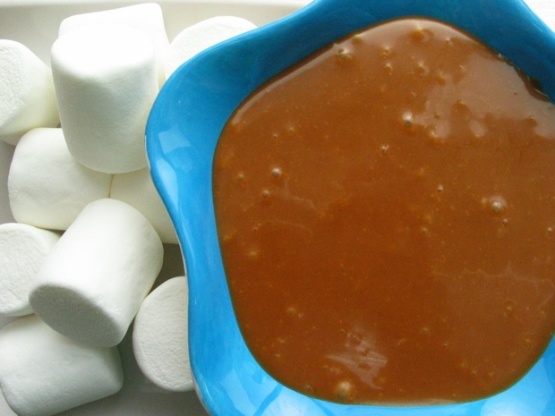 This dip is served warm and is similar to a fondue. Perfect for an appetizer or for dessert. I have yet to meet a single person who didn't like this dip.

Mmmmmmmmmmm this stuff should be illegal! I cut it down to 1 cup so I wouldn't gorge myself on it LOL I used skim milk (not whole) and made it in the microwave, gradually heating the milk and chips together, stirring occasionally until melted, then adding the p.b. and water. I scarfed this with marshmallows and apple slices (both great!) Thanks for sharing!
3⁄4 cup whole milk

2

(11 ounce) bags butterscotch chips

1

cup smooth peanut butter

2

tablespoons boiling water
apple, slices
pretzel rod
thick cut bacon
Warm milk in a saucepan on medium heat.
add all morsels to milk and mix until smooth, about 10 minutes.
Remove from heat and whisk in peanut butter until smooth.
Stir in Boiling water.
Serve immediately or keep in small crockpot.
Dip Apple Slices, Pretzel Rods, Marshmallows and even cooked bacon!