Nif_H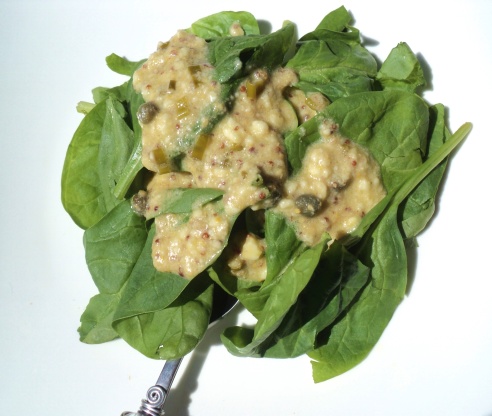 This is a lovely salad dressing recipe from Paula Deen that would make me happy to eat salad for every meal & it is certain to be shared w/our friends on a dinner occasion. I hope you enjoy it as I know I will. (The prep & cooking time has been combined & does not include time to cool slightly)

Top Review by Nif_H
This was very very good! Unfortunately, my cheese separated as you can see (it's a little lumpy) but the flavour was there for sure. I have a feeling that my pot was too hot. I just love capers and they were great in this, adding the right amount of salt. I used spinach and I think that this rich dressing would be too much for a delicate green. Delicious! Made for my fellow Chef Gone Wild for ZWT8. Thanks twissis! :)
Heat oil in a saucepan over low heat. Add onion & cook till softened.
Add mustard to saucepan, then the vinegar & stir well.
Remove rind from Brie & add cheese to the pan, mixing till smooth.
Let mixture cool slightly & add capers if you are using them.
Add salt & pepper to taste & serve warm over mixed salad greens.