Bayhill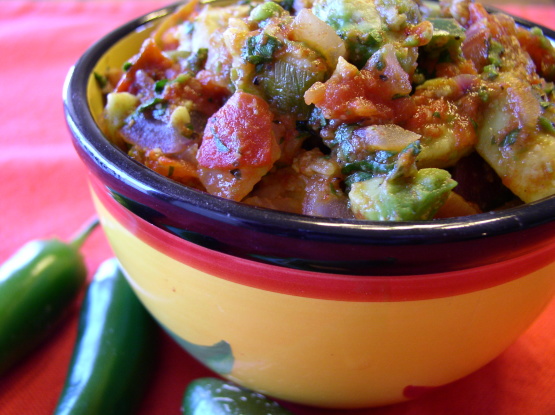 This is from the 12 Best Foods Cookbook by Dana Jacobi. Sounds like a nice change-up from my usual guacamole!
Delicious! I have never had warm salsa before and I was very pleasantly surprised. I loved this salsa!! The jalapeno provided just the right amount of zing, and the cilantro put the needed finishing touch to it. I haven't tried it cold yet, but warm...it was yummy! Thank you for sharing this wonderful recipe.
**Made for ZWT 8 Spain/ Portugal Pick-A-Pepper Challenge**
Coat a medium skillet with cooking spray.
Saute the tomatoes over medium-high heat until they soften, 2-3 minutes. Add the scallions, onion, adn chile pepper.
Reduce the heat to medium.
Add the avocado, lime juice, salt, and black pepper. Mix gently until the avocado is just warm.
Stir in the cilantro and serve immediately.