Warm Apple Raisin Crisp With Crumb Topping
Annacia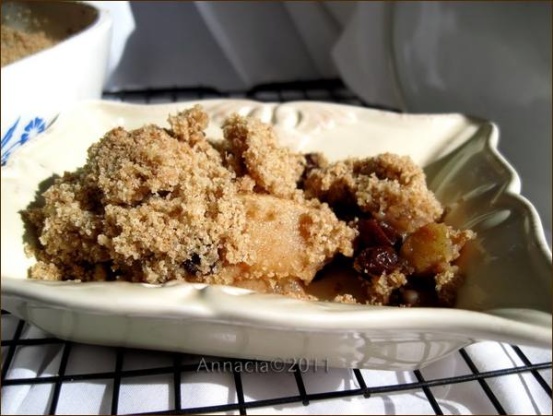 This is really a delicious dessert. I don't usually like raisins in a lot of things, but I do like it in this recipe. Recipe is from Paula Deen's magazine.

this is, without a doubt one of the very best crisps that I have ever made! To make it as diabetic friendly as I could I used 50/50 all purpose and whole wheat flours. In the topping I used 1/2 a cup of Splenda Brown and a 1/2 cup of Splenda in the apple mix, and after baking I wouldn't want it any sweeter (I made a half recipe). This has lots of apple and the cinnamon and nutmeg are great. The one thing I did find that needs to be mentioned is that ever my half amount took an hour and 15 mins to bake through. It was no problem for me buy if your counting on the stated time being on the dot you might want to allow some extra time in the over, Don't let that put you off because it's worth the wait!
Preheat oven to 350 degrees.
Lightly grease a 13x9-inch baking dish.
In large bowl, combine sugar, raisins, cinnamon and nutmeg.
Add apples, tossing gently to coat.
Place apples in prepared baking dish.
For topping, in large bowl, combine brown sugar and flour.
Using a pastry blender, cut in butter until mixture is crumbly.
Sprinkle crumb topping evenly over apple mixture.
Bake 30-40 minutes, or until apples are tender and crust is golden.