Warm and Cozy Bottom Round Roast Crock Pot Style
berry271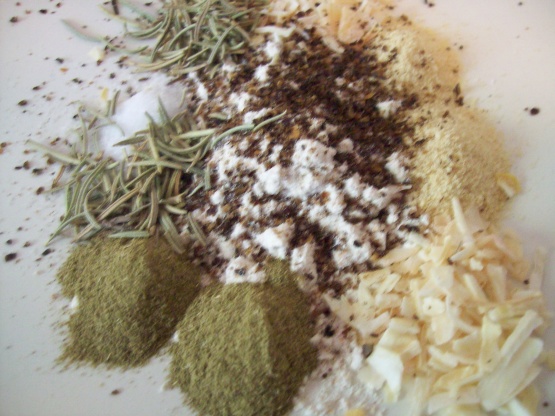 The aroma of this roast made DH and DS drool. I had a beautiful roast from the market and wanted to try simple spices yet aromatic! This is what the doctor ordered for a very chilly January day. DH and DS loved it!

This was so easy and great tasting. My wife often complains that too many of my recipe choices have too much of a "kick" for her taste. This was a fanatastic balance of spices. The meat was fork tender. I too added about 1/2 cup red wine and turned the meat halfway through the cooking time. There was enough drippings to thicken on the stove (removing the large onion pieces first) to make a great gravy.
Mix all dry ingredients together in a plate.
Rub roast in oil.
Roll roast in dry mix.
Place onions on bottom of crock pot.
Place roast in crock pot.
Cook on low for 6-8 hours.
Throw in remaining rosemary 1/2-1 hr before dinner to send the aroma once again through the house.
With juice from roast I made a gravy to pour over top of sliced beef just before serving.
I served with roasted potatoes, broccoli, and fresh made Italian bread.
Leftovers were shredded for beef sandwiches the following day mixed with the gravy.
*** I use fresh herbs when possible so measurements are approximate for herbs. Adjust seasonings to taste. I do not use salt and at times am heavy on herbs.