Pamela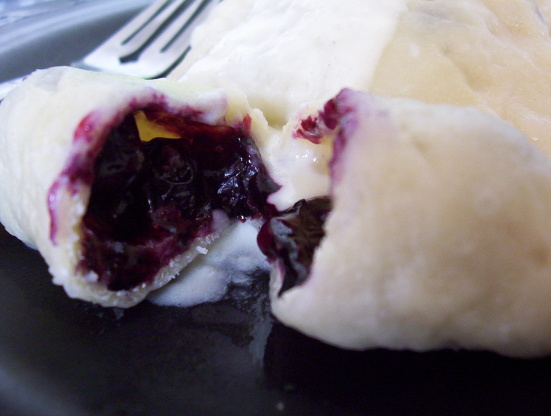 From the Mennonite Treasury of Recipes. I've enjoyed these since I was a child.

I have eaten Fruit Pockets since a little girl. My mom taught me how. I have a similar recipe, but the flour part is just add till it makes a still dough. I never refrigerate any part, and always use raspberries with some sugar and flour on them, drained of any juice in case they were frozen or not fresh. We always served them with melted butter on top (lots) and sprinkled sugar. We ate them as a meal as they are so filling. This is the first I have ever seen anyone talking about other than my family members. We are bohemian and thought it was only in our family that they were eaten. This was a nice surprise. Try just butter on top with the sugar. :)
For Filling: Combine ingredients and set aside. Add more sugar if fruit is not sweet and add more flour if fruit is juicy.
For Dough: Sift flour and salt into mixing bowl, put in eggs and milk, making a medium soft dough.
Roll out fairly thin and cut with a circle cutter or glass.
Place 1 tsp filling into each circle and seal edges, so that no juices escape during cooking. For best results, chill the completed parcels in the fridge for 1 hour.
Drop them one by one into a pot of boiling water. Cook for 10-15 minutes or until they rise to the surface.
**For OAMC: freeze in single layer on a cookie sheet until firm. Transfer to a labeled ziploc bag and freeze. To serve: Cook as directed but cook for 20-25 minutes.**.
Best with cream gravy: 1/2 cup cream, 1 tsp flour, 1 tbsp butter. Combine in small sauce pan and heat until slightly thickened.