Want to Try My Beef Kabobs Underwraps
WiGal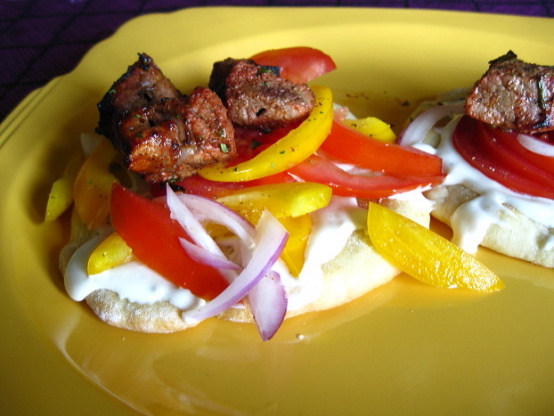 This lovely large wraps takes only 20 minutes to prepare and makes a great quick and easy dinner. The textures in this sandwich are great; hot meat, warm bread and crisp cold vegetables and fruit. Whats not to like...Best of all you can use the barbeque or the oven to make this. At my house we have his and her versions of this tasty sandwich.

Top Review by WiGal
Love the kabob idea with the ranch dressing! I was unable to buy the frozen product so made Recipe#293057 as a sub for that produce. I used Recipe#17977 for the bread which was not big or soft enough (my error not the recipe) to use as a wrap here but what I did was just laid the ranch dressing, tomato, onion, etc. on the bread and topped it with the beef. Thank you Baby Kato for sharing. Made for Newest Zaar tag.
4

beef kabob skewers, frozen, seasoned (Angus President Choice)

2

slices naan bread, Indian Naan (you may substitute with Greek pita or other flatbread)

2

tablespoons ranch dressing (Renee's)

1

tomatoes, large, sliced and halved

1

vidalia onion, small, sweet, thinly sliced
1⁄2 orange bell pepper, sweet, orange, thinly sliced

1

teaspoon sea salt

1

teaspoon black pepper, fresh, ground

2

lettuce leaves, romaine, whole
1⁄3 cup pineapple, fresh, thinly sliced
1⁄8 cup cilantro, thinly sliced (optional)

2

hot peppers, sliced, marinated
Barbeque or bake the beef kabobs as directed on box.
The nana bread can be heated on top of the barbeque or in the oven for about 2 – 3 minutes, then wrap in tin foil to keep warm.
Prepare the pineapple and vegetables and set aside until ready to assemble.
Season the onion, tomatoes and orange pepper slices with the sea salt and ground black pepper.
When ready to assemble the sandwich, divide the ranch dressing between the two naans breads.
Spread the dressing in the middle of the naan bread.
His – On top of the prepared naan bread add the tomatoes, onions and beef kabobs.
Roll the wrap towards you like a cinnamon roll and secure with 3 tooth picks.
Hers – To the prepared naan bread add the tomatoes, onions, sweet pepper slices, pineapple slices, hot peppers, beef kabobs and cilantro.
Roll the wrap towards you like a cinnamon roll and partially wrap in either wax paper or paper towels.