lazyme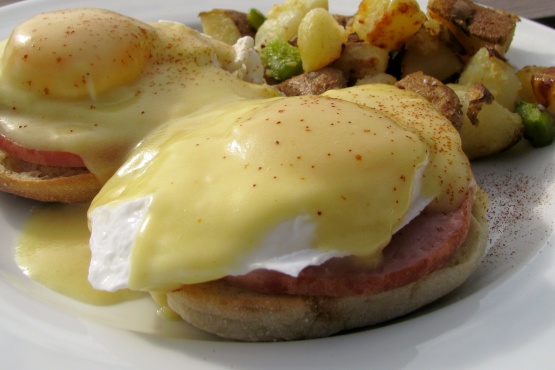 This is a classic dish that my mom would prepare for "Yankee" company at breakfast time. There are many recipes for eggs benedict on 'Zaar, but none exactly like this. This is a great recipe to recruit help with...as there are many elements to keep warm at once.
Butter english muffins and place on cookie sheet.
Preheat oven to 400°F.
Prepare hollandaise sauce as this can be kept warm in the double boiler that it is prepared in.
Fry canadian bacon and keep warm in pan.
Poach eggs: fill a shallow pan with water and bring to a simmer, add vinegar.
Crack eggs into a bowl, one by one, and slip them into the water.
Use a slotted spoon to try and contain the whites and shape the eggs (the vinegar will help with this as well).
Slide the muffins into the oven when the last egg goes in to the pan.
Cook eggs until they are opaque, and yolks are still runny.
Take english muffins out of the oven and plate.
Top with canadian bacon.
As you remove the eggs from the pan on your slotted spoon, rest the spoon on a tea towel for a moment, before transferring to english muffins.
Top the pile with a generous spoonful of hollandaise sauce.
Garnish with asparagus.