Walter Sands Basic White Bread, Bread Machine Version
loof751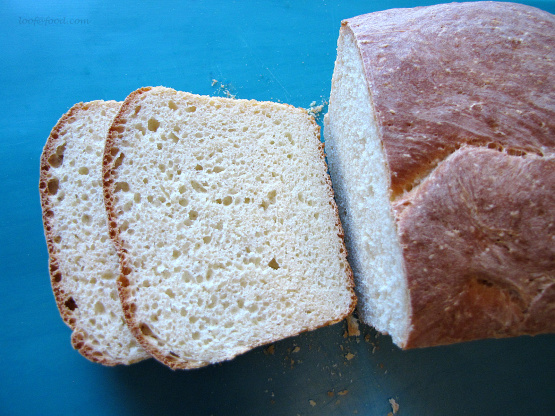 This is the best white bread recipe I have ever made. It easily converts itself to rolls, cinnamon raisin swirl bread, whatever. My family really likes it. I know yours will, too. Copied directly from the King Arthur flour website

Top Review by KateL
Very good bread. I let the ABM do all the work, and ended up with a fine crispy crust. As others said, the texture is light, yet firm. FWIW, my dog would not let this out of her sight until I put it away, so 3 thumbs up from our household. Made for I Recommend tag game. Update from 3/15 review: after we let the bread cool completely, we were astonished by the cleanly cut finely-grained slices, perfect for sandwiches.
Put everything in the bread maker in the above order. I choose the dough setting, as I don't like to bake my bread in it. Let rise until doubled, it may take longer than the time allotted by the machine. Remove, form, put in a 9x5' bread pan. Cover with a damp towel or oiled cling wrap and let rise until it is an in to an inch and a half over the rim of the pan, about an hour.
Bake in a preheated 350 degree oven for 35 to 40 minutes, rotating halfway through for even browning. Remove, turn out, let cool completely on a wire rack and offer to a friend.
One footnote; I like to use hi-maize natural fiber as part of the flour, 1/3 cup, it makes white bread healthier, and you don't even know it is there!