Debi9400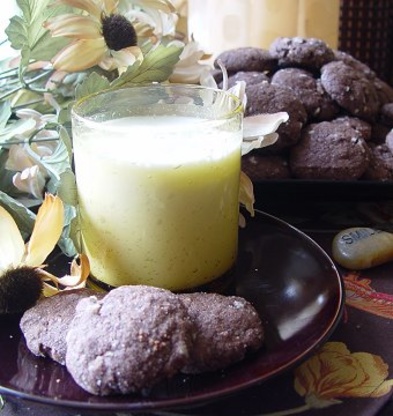 I found this recipe in a mystery novel by Joanne Fluke, called Lemon Meringue Pie Murder. They require at least 4 hours refrigeration before baking. This recipe makes 8-10 dozen cookies according to the original recipe.

My family actually gave this a 4 1/2 star rating. I let the mixture sit in the fridge over night. 9 minutes wasn't enough time in my oven but 10 minutes was perfect. Any longer would have been too long. So test your oven out with the first batch. I prerolled and sugared the dough and let sit in the fridge while waiting their turn in the oven. That saved some time.
Melt chocolate chips with margarine in the microwave, stirring as needed.
Mix in the brown sugar and let cool.
Add the eggs one at a time, ensuring you mix well after each egg.
Stir in the vanilla, baking powder and salt.
Stir in the flour.
Stir in the nuts.
Place the dough in the fridge for at least 4 hours but overnight is best.
Preheat oven to 350.
Using about 1 tablespoon or a cookie scoop, roll walnut sized balls of dough. Coat with sugar.
Place them on a lightly greased cookie sheet.
Flatten slightly with the palm of your hand.
The original directions call for the cookies to be baked for 12-14 minutes, however I found that 9 minutes worked best for me.
Allow them to cool on the cookie sheet for about a minute and remove. They may stick if left longer on the cookie sheet.