Walnuts and Potatoes Bread
awalde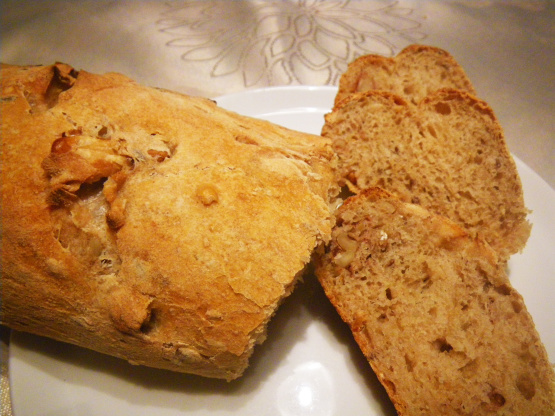 Enjoy this bread with cheese!

wow loved this bread made 1 loaf, these are my measurements ,cause good luc fing a conversion for potato flakes hopefully im not off the mark, the bread is great so here goes 1/2 c wheat flour
1 1/2 c white flour
1/4 c potato flakes 2 teaspoon yeast
1 teaspoon salt a handful of walnuts
3/4 cup water that i put powdered milk in you may need 1/4 c more milk it is chewy and the nuts really add something it kinda spreads flat as its rising hope this is close
Mix all the ingredients (excepting walnuts) with a food processor for about 5 minutes.
Let rise (covered) to double size in a warm place; in possible in a bowl in the oven with another cup with warm (not hot) water nearby.
After this time flat your dough on a non sticky surface (or use some flour) and top with walnuts.
Fold in three in the legs and flat the dough again. Let rest 5 minutes.
Fold on the other side in the same way. Let rest 5 minutes.
Repeat 2 more times.
Divide the dough with a plastic knife in six parts and form 6 breads of 25-30 cm.
Prepare two baking trays with 3 breads each.
Let rise one hour to double size and take out of the oven (if you had them there).
Heat the oven to 230°C (heat and timing are basing it on convection oven) with a fire resistant tin filled with hot water.
With scissors cut the surface (1 cm depth) as you like.
Let rise 20-30 minutes.
Let your tin with boiling water in the oven and bake both trays for about 20 minutes (together or separately if you cannot).
When golden-brown take out and let cool down completely.
Usually we eat one piece and I freeze the other breads. Feel free to reduce the quantities.