Walnut Taco Wraps With Cashew Cheese
Prose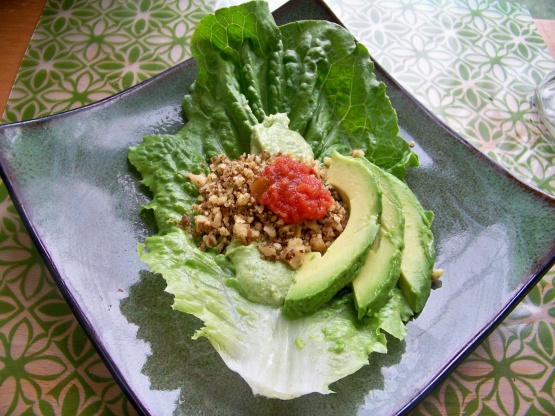 Tacos filled with a delicious, rich "cheeze" made of cashews and cilantro, topped with crumbled nut "meat"! The cheeze keeps for 3-4 days in the fridge and the nut meat for up to a week. You may also scoop the cashew mixture on top of a salad, or serve as a dip with sliced carrots and cucumbers! The walnut mix is also good sprinkled over salad or soup! Great raw food! Adapted from Delicious Living magazine.

Yummy and creative. I think next time I would use less lemon and less cilantro for the cheeze, as I found it a bit overpowering. I used red cabbage leaves, which were nice, but I was also thinking about using collards and making a burrito out of it. Topped with Tapatio and Sriracha, which worked nicely. Thanks!! Definitely easy to make and will be making them again.
To make cheeze:
Place garlic and salt in a food processor; process into small pieces. Add cashews and process into paste. Add lemon juice, cilantro, and water and process to mix well. Set aside.
Makes 1 cup.
To make meat:.
Place walnuts, cumin, coriander, liquid aminos, and salt in a food processor. Process into small pieces until the mixture looks like ground meat. Be careful not to overprocess, it will turn into butter.
Makes 1 cup.
Scoop 2 tablespoons cashew mixture down the inside spine of each romaine leaf. Sprinkle with 2 tablespoons walnut mixture. Add salsa and avocado slices. Wrap and serve. Enjoy!