COOKGIRl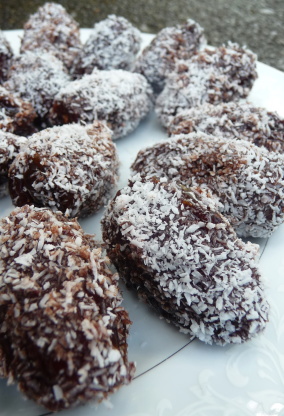 Delicious sweet snack from the Middle East. Recipe from Toronto Star. Orange and rose blossom water may be purchased in Middle East stores Time to cook does not include refrigeration time.

I used large medjool dates which made it easier to stuff the walnuts. The walnuts were pulsed in a coffee grinder until very small and a 1/4 teaspoon ground cardamom was added. Used rosewater and added it to the cocoa syrup after it was removed from the stove top. Almonds, pistachios or even pine nuts would be a good sub for the walnuts. The cream was brought to almost a boil to avoid scorching. Everyone loved this easy dessert. Refrigerated a little over a half hour and enjoyed with a cup of strong coffee. Thanks for posting! Reviewed for NA*ME Tag/April.
Slit dates on one side and stuff with walnuts.
Close and set aside.
In small saucepan, bring cream to boil over medium heat, stirring often.
Stir in sugar until it melts.
Stir in orange or rose blossom water and cocoa, reduce heat to medium-low and cook, stirring constantly, for 5 minutes.
Remove from heat until misture is cool enough to touch.
Spread coconut on plate.
Dip dates in cocoa syrup and roll in coconut.
Place on a plate or tray and refrigerate, covered, for several hours before serving.