MsBindy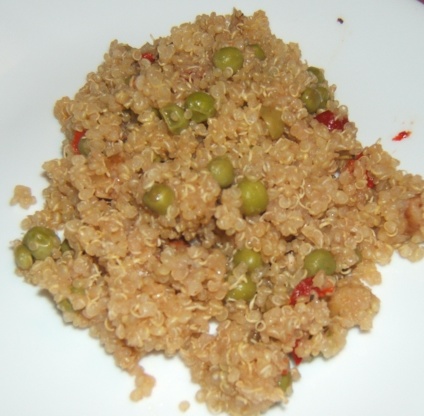 Quinoa, pronounced keen-wa, should be thoroughly rinsed prior to preparation to help remove any powdery residue that can remain following the removal of a protective substance called saponin (protects grain from insects and weather). Rinse in a fine strainer until water runs clear. Use two parts liquid to one part quinoa. Bring to a boil, reduce heat and simmer for about 15 minutes or until grains are translucent and germ has spiralled out from each grain. All the water should have disappeared.

I really enjoyed this! I made it with some chicken stock instead of all water and no soy sauce, though I did use seasalt and will use soy sauce next time. I probably used close to a teaspoon of rosemary, ground in a mortar and pestle, but it needed more, more, more! The peas and walnuts are a great addition. Yum!
Preheat oven to 350 degrees.
Heat oil in saucepan; add onion and quinoa. Sauté over medium heat, stirring constantly for about 3 minutes.
Add pepper and sauté an additional 2 minutes.
Add water, soy sauce, rosemary and peas. Bring to a boil and cover; simmer 15 minutes or until water is absorbed.
Meanwhile, roast walnuts in oven for 3-5 minutes.
When quinoa is cooked, turn off heat and mix in walnuts.
Let sit an additional 10 minutes and serve.