Kathy228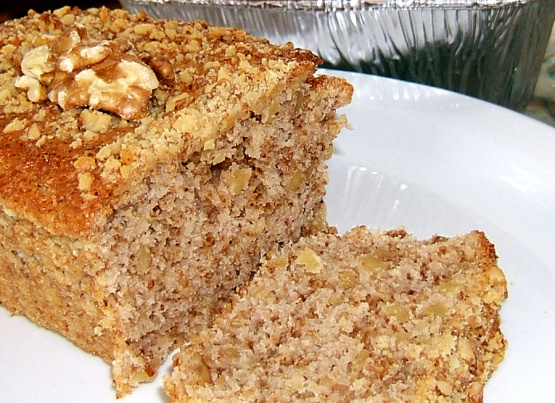 The perfect size for one or two people when baked in two mini loaf pans. Eat one now and store one for later. Freezes very well. Tastes best when tightly wrapped and allowed to set overnight. I like to use walnut or coconut oil, but any neutral/mild tasting oil will do fine. There are variations listed below.

This made a perfect size loaf in a regular pan. Excellent moist flavor! I did not put the nuts on the top. I put them in the batter. I used walnuts. I made a second loaf also and followed exact instructions with walnuts put put two very ripe mashed bananas and that was also delicious! This is quick and very easy. Thanks for posting.
Preheat oven to 350°F - Spray two mini loaf pans or one 8x4 loaf pan.
Combine dry ingredients (except optional 1/4 cup nuts) in a med size bowl; set aside.
Crack the egg into a measuring cup and stir to break yolk.
Add milk up to the 3/4 cup mark; then add vanilla and oil.
Make a well in the flour mixture and pour wet ingredients into the dry ingredients.
Mix until combined. Don't over mix. If batter is very stiff add an additional tbsp milk.
Transfer batter to prepared pan(s).
Sprinkle on optional 1/4 cup chopped nuts and lightly press down so they adhere.
Bake for 38 minutes or until tested done.
Cool on a rack for 1/2 hour. While still warm, wrap well and let set overnight for best texture. Can be frozen.
Variations: Pecans/rum extract; Coconut/vanilla or coconut extract; Almonds/almond extract.