twissis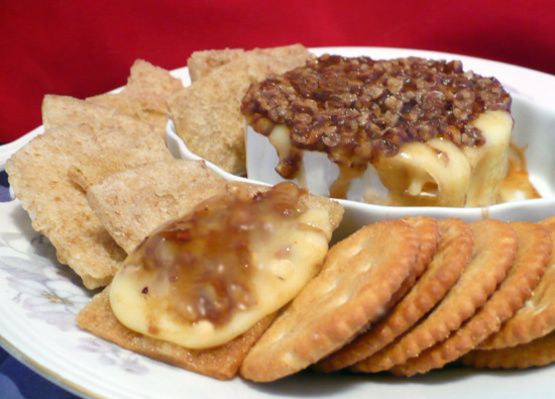 I was sent a beautiful cookbook on one of our early Zaar cookbook swaps, this recipe is adapted from that.

This is a recipe I will treasure for a long time ~ truly TDF & so easy-to-fix! For 2 of us, I used a sml rd of brie (exactly half the wt), so all else was halved easily. I used Bailey's for the liqueur & pecans vs walnuts because I had them on hand. Pears would be outstanding w/this, but I simply forgot to get them. I served it w/crackers + pita crisps lightly brushed w/butter. Pita crisps or water crackers are best here as most other crackers would add a salty taste I would not find welcome w/this. Made for the March Photo Challenge & TYSM for sharing this wonderful recipe w/us. :-)
2⁄3 cup walnuts, chopped fine
1⁄4 cup coffee liqueur (I used Kahlua)

3

tablespoons brown sugar
1⁄2 teaspoon vanilla essence

14

ounces round brie cheese
cracker, to serve
pear, slices to serve
Preheat oven to 350°F.
Spread the chopped walnuts in an 8 inch square baking pan and bake for 10-12 minutes or until roasted, stirring occasionally.
Stir in the coffee liqueur, brown sugar, and vanilla; set aside.
Reduce oven to 325F.
Remove the top rind off the Brie.
Place the Brie in a shallow baking dish.
Top with the walnut mixture.
Bake for about 8-10 minutes or until soft and heated through.
Serve immediately with assorted crackers and pear slices.