awalde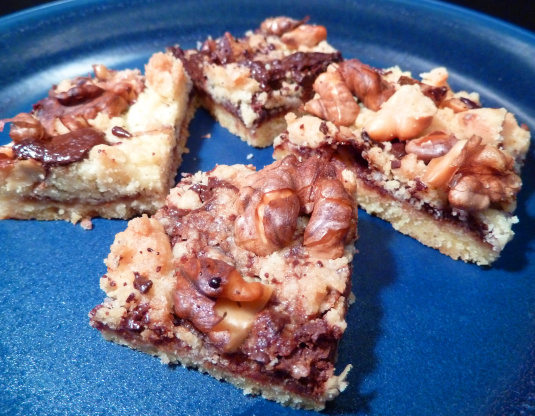 This is from the coupon section in the Sunday morning paper.

Top Review by tee-go
YUM!! I got some almonds from a friend at work and they wanted me to make something with them...this was the first recipe i pulled up, so i went with it. Turned out amazing! only complaint, and i wouldnt even call it that, is that the crumb layer at the bottom comes apart very easily when cutting up and eating it...but who cares really...it's so tastey!
Preheat oven to 350 degrees.
Beat butter until creamy (hand or stand mixer).
Mix in flour, sugar and salt until crumbly.
With floured fingers, press 2 cups of the crumb mixture in bottom of a greased and floured 9x13 inch pan.
Bake 10-12 minutes.
Reserve remaining mixture.
Melt 1 ½ cups chocolate chips and condensed sweetened milk over medium heat.
Stir in vanilla.
Spread mixture over hot crust.
Stir walnuts and remaining ½ cup chocolate chips into reserved crumb mixture.
Sprinkle crumb mixture over chocolate filling.
Bake for 25-30 minutes or until center is set.
Cool and cut into bars.
Makes 24-36 bars depending on desired size.
Store at room temperature.