Rita1652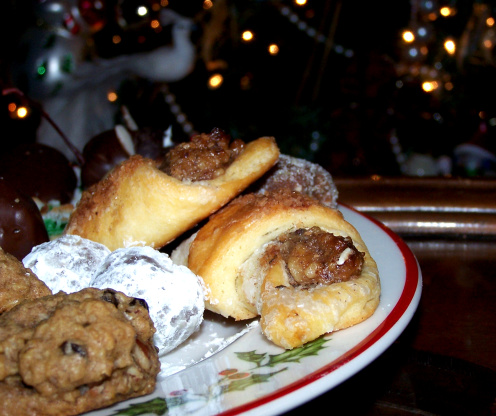 These flaky little crescents were passed on to me from my grandmother. Flour can vary add more or less depending on moisture in the air. Powdered Sugar is used for rolling. The amount can vary because you can roll as big (producing less in amount)or little (produced many little tasty treats)circles as you want.

The dough for this was very easy to work with (I used half butter and half shortening) after refrigerating overnight. I divided the dough into 8 parts and rolled each part into about a 9 inch circle. I ended up with 64 quite large cresents. I found them to be a bit bland after the first batch, so I did add cinnamon to the filling after that. All in all, a good cookie, but I think it could use a bit more sweetness and the directions could be a little more specific. Thanks for sharing...I will make again with adjustments to our tastes.
Sift dry ingredients.
Blend in Crisco or butter/Crisco mixture.
Dissolve yeast in a little lukewarm water, add to flour mixture.
lightly beat eggs.
Add eggs and sour cream.
Blend well and refrigerate over night. Dough will be moist and airy.
Filling-Blend all ingredients together.
To form---Take small (softball size is what I used) pieces of dough and roll out in powdered sugar (using as much sugar as needed about 1/2-1 pound) into a circle.
Cut into 8 pie slices.
Put filling on thick side and roll from large end to point.
You can top the filling with some mini cips if desired.
Place on a greased cookie sheet or parchment paper and top with cinnamon and sugar mixture adding crushed nuts if desired.
Bake at 375 Degrees for 20-25 minutes.