Bobtail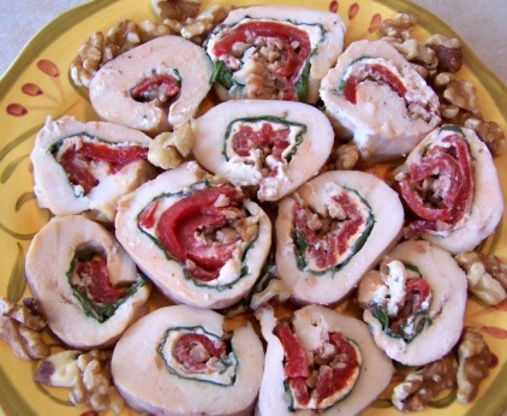 Boneless chicken breasts rolled around a filling of fresh spinach leaves, garlic-herb cheese, roasted red peppers and chopped walnuts. Bake, chill, slice and serve cold for an easy, gourmet appetizer. Recipe compliments of Aloutte. Posted by request. Can be served hot as a main course.

Would cook it a little less-the chicken was dry
Preheat oven to 400°F.
Pound chicken to about 1/4-inch thickness with flat side of meat mallet or chef's knife.
Cover each chicken piece with spinach leaves.
Spread each with Alouette.
Top with pepper slices and walnuts.
Carefully roll up each breast and secure with wooden toothpicks.
Bake 20 to 25 minutes until cooked through.
Chill, remove toothpicks, then slice into 1/2-inch rounds and serve cold.