JustJanS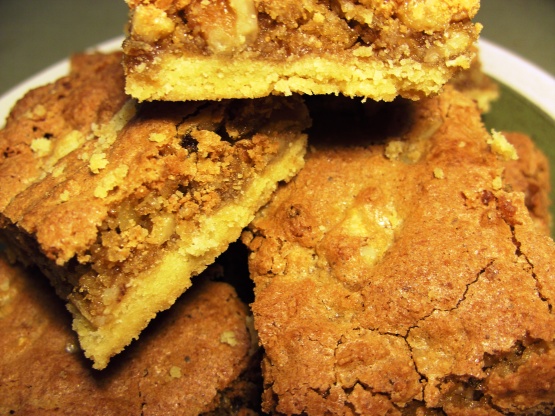 This will make your mouth water...mmmm. A family recipe only made at Christmas time and past down by my mother in-law. Can be made anytime though but beware you can't stop eating ...

I made these last night and even my husband, who doesn't exactly LOVE walnuts (or any nuts for that matter :)), agreed that it was delicious. I made a few changes though - I only had 1/2 cup of shredded walnut left over from Christmas so I substituted the other half with some chopped hazelnuts and chocolate chips (about 1/4 cup each). I also melted some chocolate and spread it on top of the chews when they were cool. Delicious! Thank you for this recipe, Valerie, I am sure I will make it again!
Preheat oven to 325 degrees F.
For Bottom Layer mix ingredients and press into 9 X 13 pan greased with butter Bake for 10 minutes or until golden brown.
For Top: Mix ingredients together and spread on top of cooled bottom layer.
Bake 350 F for 25 minutes till golden brown.
Let cool till set and cut into squares.