Debbwl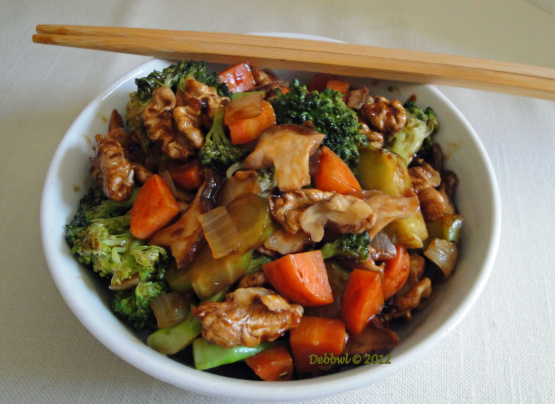 Stir-fries are classic veggie dishes that can be simple or daring – it all depends on you!

Top Review by Debbwl
This is a very satisfying stir fry that made a wonderful rice bowl dinner. We really liked the addition of the walnuts. I made as written cutting the water to 3/4 cup as we did not want too much sauce and did fallow the suggestion in step 8 and added some garlic and ginger. Will make again, thanks for the post.
Sauté onions and carrots with oil in a wok or large pot until onion is tender. • Add mushrooms, broccoli and nuts and stir for one or two minutes.
Add the water, cover with a lid, and simmer for a few minutes until broccoli is bright green. Don't overcook. • Add soy sauce, salt and pepper, and cornstarch dissolved in cold water (to thicken the sauce).
Serve with brown rice or whole-grain noodles.
Variations: Be creative! Experiment with different combinations of fresh veggies, tofu, seeds or nuts. For more flavour, try adding ginger, garlic, or miso.
Source: Source: Vegetarian Tastes of Toronto, p. 71.