Debbwl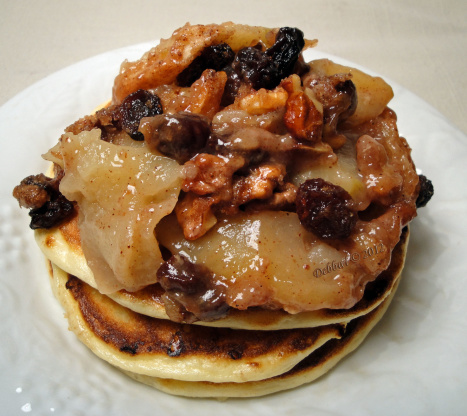 This is another twist on baked apples. I like to serve it with vanilla ice cream. The spices make this very flavorful.

Top Review by Debbwl
Putting this atop of Recipe #376779 made a wonderful holiday flavored breakfast. I doubled Recipe #376779 and cut Recipe #327790 down to serve just the two of us and baked in a custard cup. Knowing I was going to use atop pancakes I almost let out the milk worried they might be too wet, but end up adding it and was pleasantly surprised that the texture and moisture was perfect. We also thought the addition of nutmeg and cloves gave these apples a nice holiday flavor. Tucking this aside for next time DH and I need a special treat for breakfast, thanks for the post.
Preheat oven to 350 degrees F (175 degrees C). Grease a 2 quart casserole dish, or coat with non-stick cooking spray.
Place apples in a large bowl. In a small bowl, mix together sugar, flour, cinnamon, nutmeg and cloves. Stir spice mixture into apples until evenly distributed. Fold in raisins and walnuts. Spoon into prepared dish. Pour milk evenly over apple mixture.
Bake in preheated oven for 45 to 60 minutes, or until soft and bubbly. Allow to cool slightly before serving.