Walnut and Fig Tapenade With Goat Cheese
karen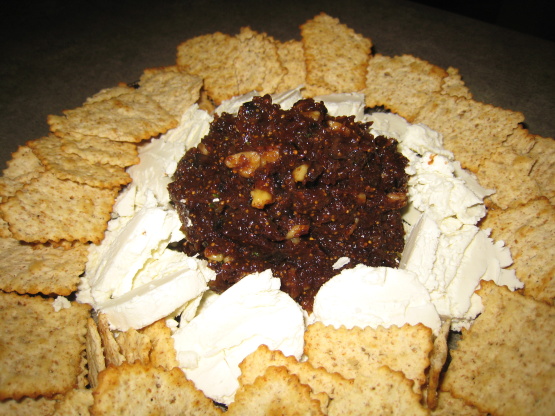 This recipe has been passed around amongst my friends. Went to a party, asked for the recipe, because with this appetizer, Diana Krall to set the mood, let's say, it's perfect.

Top Review by karen
I made this for a BBQ and it was a big hit. I left out the capers and used black olives, and didn't bother to toast the walnuts. I also used fig paste from the local international grocery that was thinned with some water in the food processor. I think the flavor got better as it sat out for a few hours. I goes great with the really mild goat cheese. I will definitely be making this again!
Combine chopped figs and 1/3 cup water in heavy saucepan.
Cook over medium-high heat until liquid evaporates and figs are soft, about 7 minutes.
Transfer to medium bowl.
Mix in olives, olive oil, balsamic vinegar, capers, and chopped thyme.
Season tapenade to taste with salt and pepper.*.
Cover and refrigerate.
Bring to room temperature before serving.
*This dish can be prepared 2 days in advance.
Arrange overlapping cheese rounds in the center of a medium platter.
Stir chopped walnuts into tapenade and place in center of cheese circle.
Garnish with walnut HALVES and thyme sprigs.
Serve with great crackers.