Wallumbilla Crustless Quiche
Sara 76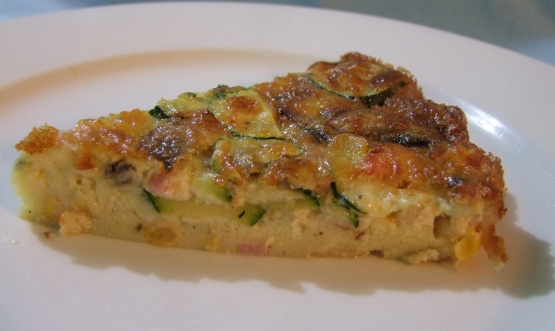 A very easy quiche, that you can "muck around" with. Great way to use up any withering veggies or cold meat, or even cheese, in the fridge or freezer. Great for lunch, brunch, dinner, a snack after school, even breakfast!!! My daughter got this recipe while teaching in Wallumbilla, everyone there wanted to feed her, she had a great time!!!

Here's a winner. I am not an egg fan at all, and was looking for ways to get more protein in my diet via eggs. Here it is! LOVE it. Made lots of changes, but the basic recipe is just a winner. You can mess with this big time, as I did, and it is still great. I cut the "good stuff" by using egg beaters, skim milk with no cream, promise spread in place of butter, and only 1 cup cheese. Veg = mushrooms, red pepper, cilantro, a can of green chilies, and one tomato sliced on top. Also added a cup of chopped chicken breast from last night's dinner and some spices. Excellent! Will try different ingredients. This is a keeper. Simple and FAST! Thanks.
Whisk together the first 5 ingredients.
Stir in the filling and cheese.
Pour into a greased quiche plate.
Bake for 50 to 60 minutes at 180c.