Walleye Hungarian Style (Süllöszelet Magyarosan)
Thorsten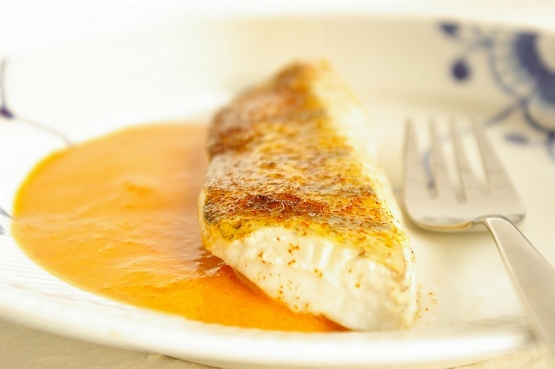 I found the recipe for Süllöszelet magyarosan in a cookbook written by Mari Erdei. I have made several changes to the original recipe, e.g. I do not use as much butter as called for in the recipe or omit the flour to thicken the sauce. The sweet flavours of this fish is fantastic. The sauce here with tomatoes and bell peppers isn't overpowering the fish. Serve with a bread to dip up all of the sauce.

This is a great recipe that can be dressed up or down. I omitted the wine, sour cream and fish stock due to DH's preferences and this still turned out terrific. Thank you Thorsten! Served with Recipezaar #78099 Spiced Rice Pilaf and the flavors blended well.
Preheat oven (390 F, 200 C).
Dice bell pepper, tomato and onion.
Heat 1 tablespoon butter in a pot over medium hight heat. Add onions and cook until translucent (about 1-2 minutes).
Add bell pepper and tomatoes and let cook for about 3-5 minutes. Salt slightly. Stir from time to time.
Add paprika and stir. Add fish broth. Add salt and pepper to taste. Reduce heat to low and let simmer for about 15 minutes.
Meanwhile butter an oven proof dish with the remaining 1/2 tablespoon butter. Put fish fillets skin side down into the dish. Salt the fillets slightly.
Add as much white wine to cover bottom of form. You may need a little more than 1/3 cup white wine or a little less (drink the rest). Cover form with aluminium foil and put into oven. Bake for 10 minutes.
After 10 minutes remove aluminium foil and turn fillets. If you like you can sprinkle some paprika on top of the fillets. Let bake uncovered for another 10 minutes or until fish is done.
Meanwhile: after 15 minutes of cooking remove sauce from heat and puree the sauce in a food processor or with a blendor until smooth.
Return to low heat and add sour cream. Mix. Keep warm until fish is done.
Take fish out of the oven and serve with the sauce.