Diana 2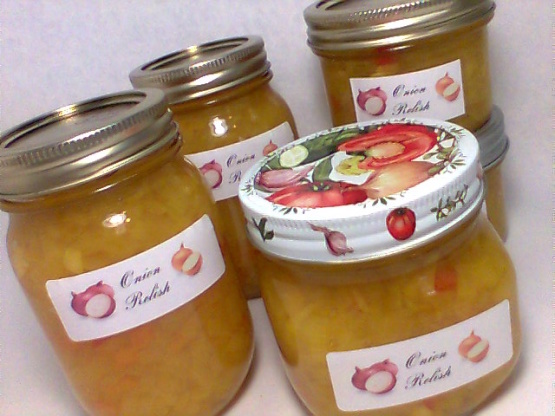 An adaptation of the Vidalia Onion Relish to use Walla Wallas and cut down on the amount of sugar used.

I halved this recipe successfully and it came out to just a tad bit more than 4 half pints. We used up the leftover immediately after cooking on some cornish game hens and it was good. Easy to make and can. Thanks for posting.
Chop onions finely by hand or in a food processor.
Turn out into a glass bowl and add 1/4 cup of salt and allow to stand for 30 minutes to an hour.
Drain juice from onions and discard.
Put onions in an enameled or stainless steel pot and add vinegar, turmeric, spices (tied into cheese cloth ball), pimentos and sugar. Bring to a boil and allow to cook until onions are transparent.
Pack onions and cooking liquid into canning jars, leaving a 1/2 inch headspace. Remove air bubbles and place lids on jars according to the manufacturer's instructions.
Process jars in a water bath for 10 minutes or adjusted to your altitude.