Walk-Away Roast Chicken With Lemon & Herbs
lazyme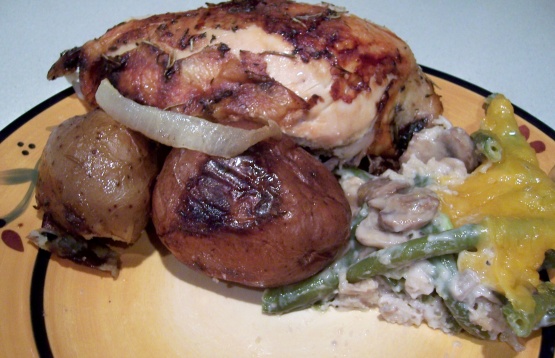 By Gordon Hamersley, from from Fine Cooking #32.

I cooked this for my parents anniversary. We all LOVED it. My family agreed that the gravy was some of the best we've ever had. I made a few changes though. -------------------------- ***The rub: I added 2 cloves of pressed/minced garlic ***Inside the chicken: I added 1 onion - roughly chopped, handful of parsley - finely chopped, 2 garlic cloves - whole but crushed, 3-4 tbsp butter - room temperature ***The gravy: Added chicken broth instead of water, corn starch for thickening ***The vegetables: Added carrots - bite-sized chunks, used 2 onions - thickly sliced (in addition to the onion inside the chicken) ***Cooking: 250F - about 6 hours. -------------------------- I might add dry white wine to the gravy next time but it was so good this time I would be worried about messing it up. This was definitely one of the best things I've made at recipezaar.
Heat the oven to 375°F In a small bowl, combine 1 Tbs. of the olive oil, the mustard, thyme, rosemary, salt, and pepper. Squeeze the juice from one lemon half into the herb mixture; squeeze the juice from the other half into a small bowl and reserve. Reserve the squeezed lemon halves. Spoon the herb mixture over the chicken and inside its cavity, rubbing to coat the bird thoroughly. Put the reserved lemon halves inside the chicken's cavity.
Put the onion and potatoes in a roasting pan. Season them with salt and pepper and toss them with the remaining 1 1/2 Tblsps. olive oil. Scatter the ingredients around the pan to make room in the center for the chicken.
Put the chicken in the pan, breast side up. Cook until the meat is tender and the juices run clear at the thigh, about 1–1/4 hours. By this time, the potatoes and onions should be tender.
Transfer the vegetables to a serving platter. Pour the juices from inside the chicken's cavity into the roasting pan and transfer the chicken to a cutting board and let it rest.
Spoon off and discard as much fat as possible from the juices in the roasting pan. Set the pan with the juices over medium-low heat and pour in the reserved lemon juice along with 1/2 cup water. Bring to a boil, scraping up the browned bits from the bottom of the pan.
Cut the chicken into pieces (or serve it whole, if you like). Pour the pan juices over the chicken and serve.