Waldorf Salad With Steel-Cut Oats
J-Lynn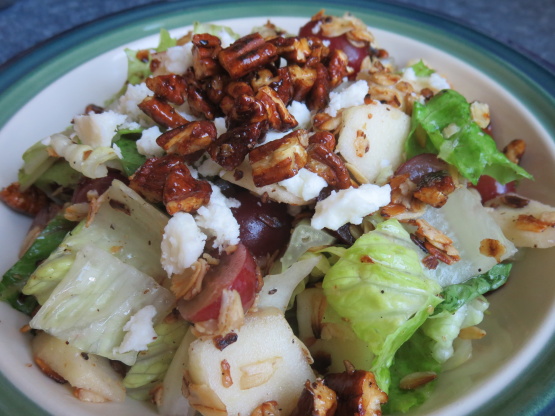 Amazing, amazing recipe from Cooking Light. I usually skip the bleu cheese, which cuts out about 130 calories.
Top Review by J-Lynn
Delicious! I cut the recipe in half for two people, and was afraid that it wasn't going to be enough for our main dish. But it has so much protein and so many filling ingredients, it was the right amount! I tried to cook rolled oats the as described, but I guess they are too different from steel-cut. I gave up and browned the dry oats in a frying pan with coconut oil. Worked just fine! Also substituted red wine vinegar and feta cheese, as that's what I had on hand. We both loved this- tastes like restaurant quality! Going into my regular menu rotation!
Combine oats, 1 cup water, and 1/2 teaspoon kosher salt in a medium saucepan; bring to a boil. Reduce heat, and simmer for 7 minutes (do not stir) or until liquid almost evaporates. Remove from heat; fluff with a fork. Place oats in a medium bowl, and let stand for 10 minutes.
Combine walnuts, honey, and red pepper in a small nonstick skillet over medium heat; cook 4 minutes or until nuts are fragrant and honey is slightly caramelized, stirring occasionally.
Combine remaining 1/2 teaspoon salt, olive oil, vinegar, and black pepper in a small bowl, stirring with a whisk. Add dressing, apple, radicchio, and grapes to oats; toss well. Place 1 1/2 cups oat mixture on each of 4 plates, and top each serving with about 3 tablespoons walnut mixture and 2 tablespoons blue cheese.