Parsley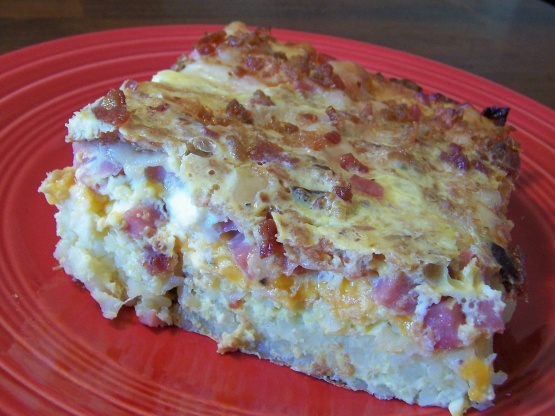 My four kids went to visit my aunt and uncle in Wisconsin and came home ranting and raving about this great breakfast! I convinced my aunt to send the recipe and it is so easy and yummy! Also so easy to adapt to whatever you have in the fridge, onions, mushrooms, broccoli, sausage, etc!

My friend discovered this recipe. I have made it countless times as specified. I recently made it for a Retirement party at work. It was a hit. I was asked to send the recipe. I always make it up the night before and bake in the AM. You can try adding 3/4 fresh salsa to the top right before baking. It gives it a nice color and added flavor depending if you use mild or hot.
Place hash brown patties in 13x9 greased casserole.
Sprinkle with cheese, and ham.
In a bowl, beat eggs, half-and-half, salt and mustard well.
Pour over ham.
Sprinkle with pepper and bacon if desired.
Cover.
At this point it can be refrigerated and baked in the morning.
Bake at 350°F for 45 minutes covered, (I have have baked at 400°F for 30 minutes also).
Uncover and bake additional 15 minutes or longer until edges are golden brown and knife inserted in center comes out clean.
Cool slightly and cut around the hash brown patties to serve.