CandyTX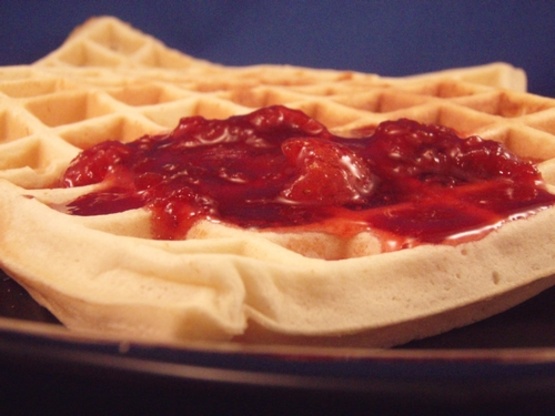 I got this recipe in my local news paper.

Delicious! I think the beaten egg whites are the key to the recipe. The waffles were tasty and light. I will use this one again and have saved it to my cookbook. I used my Mom's homemade peach jam with this recipe. My husband, who is more of a traditionalist, use syrup. We both pronounced them delicious. I will try some of the suggested add ins next time. Thanks.
Sift together the flour, sugar and baking power into a large mixing bowl.
Make a well in the center of the dry ingredients.
Whisk together the egg yolks, milk and melted butter in a separate bowl.
Pour the wet ingredients into the well of the dry ingredients, stirring until just combined. The batter will be slightly lumpy. Do not over mix.
Preheat the waffle iron.
Whip the egg whites to soft peaks and fold into the batter in two additions.
Ladle about 3/4 cup batter into the waffle iron. Cook the waffles until they are crisp, Golden and cooked through about 3 to 6 minutes per waffle.