Prep 15 mins
Cook 35 mins

This recipe is courtesy of The Hurst Hills School cook book. A toss between twice packed potatoes and nachos. Fun appetizer
Directions
Bake fries according to package directions.
Transfer to a 10 inch skillet.
Top with bacon,onions, olives, tomatoes, salsa& cheeses.
Return to the oven at 400 degrees for 5 minutes or until cheese is melted.
Serve with sour cream.
Reviews
Most Helpful
These are awesome! I made them for a special late night snack for my family and we devoured them. I didn't measure anything - just threw the stuff on until I thought it looked right. We'll definitely be making these again.
Well, it was a struggle not to eat the bacon before I needed to use it for this (you know I love my bacon, hon), but I was glad I waited. This is so easy and tastes great! Quick to put together and nice for watching games when you are not around. ;O) Thank you baby!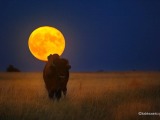 I cannot believe that this recipe has been around for so long and nobody has tried it! This is PURE comfort food LOL I don\'t usually do bacon because it doesnt like me, but I decided to give it a go in this recipe. WOW! The flavors are just fabulous! I love the addition of the olives. Im generally not a huge olive fan, but they definitely go with this recipe. Im a huge freak for waffle fries, and hadnt had them in so long because Ive been trying to eat healthier LOL boy..just blew the diet with this one, eh? lol :) This was totally worth it. I had this as a meal, obviously cutting it down for just 2 servings hehe. Thanks so much for this YUMMY recipe!