Waffle Applewich (Ham, Cheese, and Apple Sandwiches on Waffles)
loof751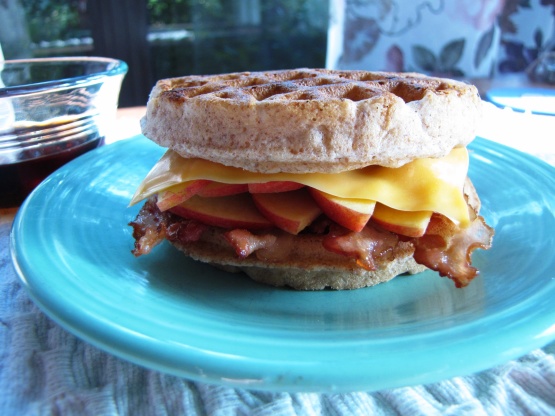 This is a fun sandwich for breakfast or lunch! I use the leanest ham available, often use sugar free syrup, and whole grain waffles. That way it is even a lower fat and calorie count than the nutrition analysis shows. Quick and easy to make, and delicious to eat! Kid's LOVE it! Comes from the lunch box builder on Kraft's website.

Yum - great breakfast sandwich! I used multigrain waffles and subbed ready-to-eat bacon for the ham. After I built the sandwich, I microwaved it for about 15 seconds to get the cheese to melt a bit. Served as you suggested with syrup for dipping and enjoyed a tasty breakfast - thanks for sharing the recipe!
Top one waffle with cheese, ham, and half of the apple slices.
Place second waffle on top.
Eat immediately dipped in syrup, or wrap sandwich in foil or plastic and place syrup in sealable plastic container.