Rayndrop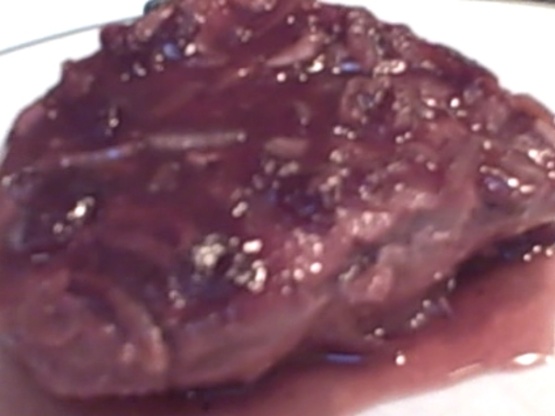 Another great recipe that is WW friendly. Super easy - another 3 ingredient recipe that tastes like you've slaved over the stove all day long. I've made with tenderloin and this works as well. W W Points - 6 per chop with 1/4 cup sauce

Were sorry we just didn't care for this recipe. I guess personal taste in this case.The recipe is super easy and quick that was a major selling point for us to try the recipe...oh well maybe next time....
Preheat oven to 350º.
Spray baking dish lightly with cooking spray.
Mix in baking dish the Whole Berry Cranberry Sauce & Onion Soup Mix.
Place pork in baking dish and spoon some of the mixture over the top.
Cover with foil and bake 30 minutes.
Remove foil, turn chops and continue to bake uncovered additional 20-30 minutes or until pork is done & tender.
Serve spooning sauce over pork.
To freeze: Place chops in a freezer bag and seal. Mix together the soup and cranberry sauce. Place in a second bag and seal. Place both bags into a larger freezer bag. Seal, label and freeze.
To serve: Thaw overnight in fridge. Proceed with cooking directions.