Leslie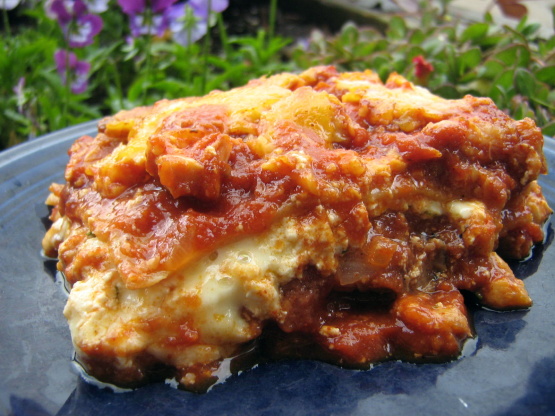 I was going to make chicken enchiladas and realized I didn't have tortillas so I switched it up a bit and came up with a Mexican Lasagna instead. It's a big hit and always requested in my house. I was honored to have it Published in SeptOct Issue of Taste of Home Simple & Delicious...pg 56!

Hi Volanda! I have made this recipe at least 6 times since I received my Simple and Delicious magazine a couple years ago. My family loves this lasagna so much. It was the first time using no boil noodles and I was nervous but they work great! I notice the ingredients here are a little different......my magazine calls for 30 ounces of enchilada sauce (I always buy a 28 ounce can of mild La Victoria red enchilada sauce, which is the only kind I will use, and I add 2 ounces of tomato sauce to make the 30 ounces), 1/2 cup minced cilantro instead of 1/4 cup, and 4 cups shredded Mexican cheese blend. I love the way it comes out so I wouldn't dream of doing anything different-it uses the 4 cups of cheese no problem! I very much prefer the noodles over the tortillas in Mexican lasagna. My family cheers when I say I am making this for dinner. I wish I could give this more stars.....it's completely craveable! The only thing wrong with this is that we can eat way too much, way too easily! Thanks so much for your wonderful recipe!
4

cups cooked chicken (rotissere chicken chopped)

1

tablespoon oil

1

cup chopped onion

2

garlic cloves, minced (I use 2 Tbls canned minced garlic)

1

(29 ounce) can red enchilada sauce

1

(15 ounce) can red enchilada sauce

1

(15 ounce) container ricotta cheese

2

large eggs
1⁄4 cup cilantro, finely chopped (another ingredient I have to hide)

1

cup cheddar cheese, shredded

1

cup monterey jack cheese, shredded (I use 1 pkg Mexican Blend Cheese)

12

uncooked no-boil lasagna noodles
Preheat oven to 375'.
In a large skillet, cook onion and garlic in oil over medium heat until tender. Stir in enchilada sauce. Bring to a boil. Reduce heat; simmer, uncovered, for 5 minutes or until slightly thickened, add chicken and stir to combine. Meanwhile, in a small bowl, combine the eggs, ricotta cheese and cilantro.
Spread 3/4 cup chicken mixture into a sprayed 13-in. x 9-in. x 2-in. baking dish. dollop ricotta mixture and cheese, Layer with three noodles, repeat chicken mixture and 1 cup shredded cheese. Top with remaining noodles, sauce and shredded cheese.
Cover with foil and bake at 375° for 30 minutes. Uncover; bake 10-15 minutes longer or until bubbly. Let stand for 10 minutes before serving.
As a side dish, I make a tossed green salad and add chopped cilantro to compliment the taste. Also serve with fresh french bread and butter or we eat it with Tortilla strips sometimes instead of bread. Yummy!
Quick Tips: I buy a roasted chicken already cooked and cut it up. My family doesn't like onion so I use a grater to mince onion to make it so small they don't see it in the dish. Also, I buy a pkg of Mexican Blend Cheese that already has two cups of the Cheddar and Jack.