Volcanic Shrimp With Dipping Sauce
From Food Network Canada, License to Grill
Directions
Combine and mix all dipping sauce ingredients in a bowl and place in the fridge.
Combine all marinade ingredients in a bowl. Place prawns in large sealable bag and pour marinade over. Marinate in fridge for 30 minutes.
Remove shrimp form marinade and sprinkle with salt, pepper and olive oil. Let shrimp come to room temperature.
Preheat grill to 450ºF.
Place shrimp on grill and cook 2 minutes per side, until pink and firm.
Remove from grill and serve with dipping sauce.
Reviews
Most Helpful
Kick BUTT Boomette! This recipe is fantastic! We made the marinade and shrimp as is, and halved the dipping sauce recipe. We have lots of dipping sauce left over, but no volcanic shrimp! I can't tell you how much we loved these. They are seriously spicy and just downright awesome. New recipe find, LOVE IT! Made for Pick-A-Chef Fall 2011.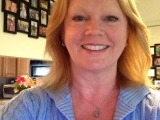 This recipe was included in Book#228608. March 22, 2008 -- What a FANTASTIC recipe!! The marinade flavored the shrimp nicely, without overpowering it. I wasn't sure if the dipping sauce would be too hot because of the amount of horseradish, but it wasn't -- the sauce was perfect and I loved the hint of lemon. It made more sauce than we needed, so next time I'll make half of the dipping sauce. It was so good that my husband took the shrimp I had set aside to take a picture of, and gobbled them down -- GRR. Thanks for this great recipe!!