Prep 1 hr 10 mins
Cook 0 mins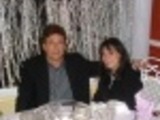 Perfect for those dog days of summer. From "Too Busy To Cook?", Bon Appetit, October 1985
2 quarts lime sherbet, softened
1 (32 ounce) can pineapple juice
1 (32 ounce) bottle carbonated lemon-lime beverage
1 1⁄2 cups vodka
Directions
Combine sherbet and juice in blender or processor in batches and mix well. Cover and freeze until firm, 1 hour or overnight.
Transfer mixture to blender or processor in batches. Add soda and vodka and mix until slushy. Pour into glasses. Garnish with lime slices.
Most Helpful
This was really yummy! I reduced the recipe by half, and we thoroughly enjoyed them! The creamy sherbet, the sweetness of the pineapple juice and the airiness of bubbles from the Sprite was terrific! I can't wait to make this for Girl's Night In! Thanks for sharing, Jackie!