3 Reviews
I used basil and tomatoes out of my garden and loved this sauce. Fun too, as a change, using vodka. I served this with chicken and pasta.
Outstanding flavors! I made the sauce exactly as written. I used ground white pepper instead of the coursely ground black I usually use. This will be an excellent sauce for the baked chicken we're doing for dinner tonight. Thanks so much Taterbug! Reviewed for Spring 08 PAC. **This was saved in my Top 2008 Recipes Cookbook!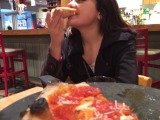 Fabulous! We grilled chicken breasts, made some pasta, added this sauce nd wa-la - had a fantastic main course! With parmesan triangles so expensive now, I used grated (from deli) and a full cup. After sauting onions, garlic, and vodka for specified time, remaining ingrediants were added all at once. Also added a sprinkling of oregano for slight depth and body in the flavor, but it's not needed (I'm a hopeless recipe experiementer.) This one will be made again and again! Thanks Taterbug!

Vodka Basil Tomato Sauce