jude503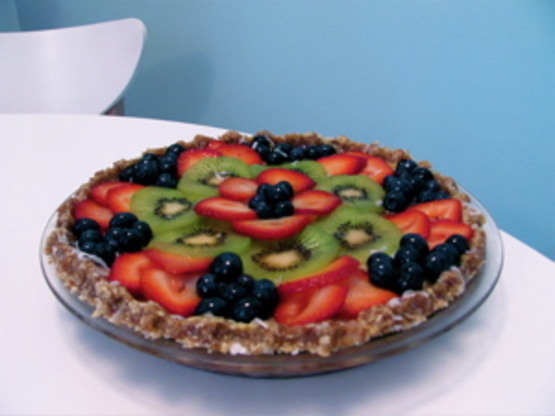 Raw, naturally sweet & amazingly healthy and delicious. This is my take on Vivian's original recipe. There is a lot of room to improvise here. I've had several different versions of this pie and it was excellent every time. This recipe comes from an old hand written recipe card from a friend's mom's recipe collection. Whoever Vivian is, bless her heart, I love this pie.

Incredible!!! I used bananas, peaches, plums, pineapple, blueberries & strawberries. For the crust, I used sticky mejool (sp?) dates which were wonderful. It worked well to chop them up with a big knife and sprinkle them with almond flour and chop some more - the dates were too sticky for the Cuisinart. I used too much prune juice so the crust was a little too wet. Next time I'll use just enough moisture to be able to press it into a pie plate. I had almond flour so I used that along with sunflower and sesame seeds. Next time though I'll chop my own almonds, the flour's a little too fine (and expensive...) None of the so-called "mistakes" mattered though. This Raw Pie is so good. You really won't believe it til you taste it! And (as long as you use unsweetened coconut and don't add sugar), this is SUPER healthful but you will go crazy over how good it is! I ate it for breakfast the next day. I will make this again!!!!
1

cup nuts (cashews, sunflower seeds, almonds, sesame seeds, macadamia, pecans-whatever you like)
3⁄4 cup shredded coconut
1⁄4 cup flax seed (finely ground)

12

dates (medjool are delicious)

2

tablespoons honey or 2 tablespoons agave nectar

8

ounces unsweetened coconut milk
fresh fruit (i like to use a variety. soft fruits work well, bananas, pears, peaches, berries, mango, kiwi, etc.)
Grind nuts & seeds in food processor. they should measure at least a cup AFTER they've been ground.
Add ground flax & 1/4 c shredded coconut. add dates a few at a time. careful, they can stick to food processor blade.
When dates are finely chopped mix in with a fork 1 TB honey or agave and just a little coconut milk (maybe a quarter of the can)- a little at a time until you reach a sticky consistency that can be patted into a pie pan.
*Note: You may not even need the coconut milk if your dates are really soft. The original recipe had none- I just added it because mine always seems too dry.
Slice fruits in thin slices and layer on top of crust: bananas first, then whatever else you're using. Save a layer of your prettiest fruits; kiwi, berries, or star fruit- or whatever you want- for the last step.
Take whatever mushy fruit you have leftover (bruised strawberries, overripe pears, papaya, or banana all work well) & blend in food processor (with a little coconut milk if you like) until smooth. consistency should be a little thinner than applesauce. pour this evenly over the pie.
Take your decorative fruits reserved for the top layer (toss them in a little agave if you like for a glazed look) and arrange prettily on top.
Sprinkle top lightly with remaining coconut shreds.
Freezing for an hour or so helps with the slicing, or you can slice & eat right away or refrigerate. This pie is definitely best the first day :-).