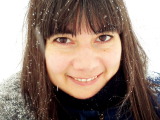 You know those raspberry filled, thinly chocolate coated Viva Puff cookies you can buy? This tastes almost the same, but I haven't figured out how to add that thin layer of chocolate and still be able to cut the squares afterwards without making a mess. I'd love your ideas! (Prep time does not include chill time)
Directions
Crust: Mix flour, butter and sugar until crumbly.
Press into ungreased 9x9 inch pan and bake at 325F for 15 minutes.
Filling: Stir gelatin and water together until dissolved.
Add raspberries and mix.
Chill until syrupy. Pour over crumbs and return to refrigerator.
Melt marshmallows in milk in top of double boiler. Cool.
Whip cream until stiff. Fold into cooled marshmallow mixture.
Spread over firm raspberry jelly and chill until set.