Boomette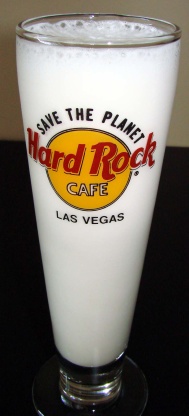 This is an old family recipe of my Mother-in-Laws. She used to serve it every year at her Christmas Eve party.
I did half recipe. I got 2 glasses like you can see on my photo and a little bit more. I used brandy. I was not able to taste the milk. I really liked it. But we can taste the brandy but it's ok with me :) Thanks Junebug :) Made for the Photo tag game.
Fill blender 2/3 full of ice.
Pour in 3 jiggers of bourbon or brandy.
Add 4 Tablespoons of sugar.
Add 2 teaspoons vanilla and a splash of almond.
Fill with milk until about 4/5 full.
(Leave enough room at top so it won't overflow.).
Blend until a smooth creamy consistency.
Pour into cups and enjoy!