Virgin-Twisted Strawberry Colada
Rita1652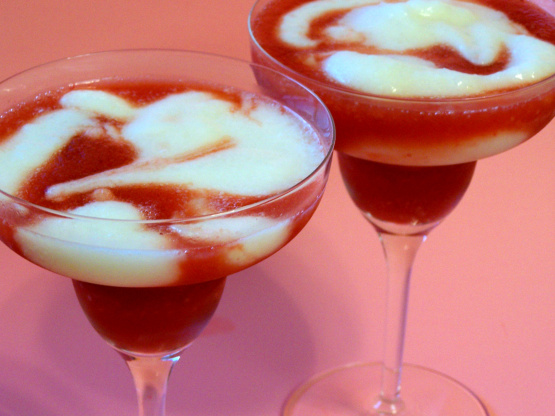 We love to get restaurants to make their specialty drinks into a virgin form since we don't drink. This is what we had a Joe's crab shack one time, minus the alcohol! You really can't call it a recipe...more like directions, hope it's o.k. to do this! My kids adore this and love it when I make a "special" Mexican dinner, cause this has to be on the menu. It's really like having dessert w/ dinner. Very easily converted to it's "true" alcohol form.

I made this, sans whipped cream, for my younger sister and her friends for a sleepover. My sister's friends sucked theirs down in a few seconds flat and said they loved it but my sister and I put ours back in the fridge because it is just waaaaaaay too sweet. This drink def. needs to be diluted more than just a half a can of water for every can of concentrate. I added milk about 8 oz. of milk to my drink alone to dilute. I will try to dilute this much more next time because it's way too potent as is.
1

(12 ounce) can frozen strawberry daiquiri concentrate (Bacari's)

1

(12 ounce) can frozen Pina Colada mix (Bacardi's)

1

(8 ounce) can whipped cream
Make this just before you are ready to serve.
Make both drink mixes according to directions substituting any alcohol for water.
Pour the two together in a tall glass, turning it to create a twist w/ the colors.
Place a squirt of whipped cream on top.