Virgin Strawberry Daiquiri
diner524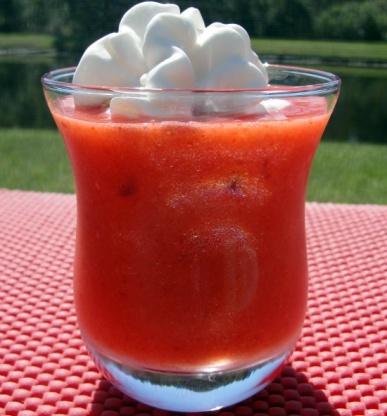 The perfect drink for a hot summers day! Refreshing and healthy! I got this from Baby Center, a pregnancy site. This is a Cuban and a Northeastern recipe.
Sooo good!!! I made this as a mid morning snack. I used fresh strawberries that for some reason were partially frozen in my fruit drawer. I squeezed 1/2 of a lime, which gave me about 1/2 ounce and I then added 3 1/2 ounces strawberries. Since mine weren't in a syrup, I added 3 tsps powdered sugar and some crushed ice and it was perfect. Thanks for sharing the recipe. Made for Sharon's cook-a-thon in memory of DH.
Fill a blender with cracked ice. Add lime juice, strawberries, and sugar. Blend until smooth. You may add a little water if too thick. Pour into a chilled glass.
Garnish with an extra strawberry or an orange slice. Enjoy!